Changes in Orang Asli Lives in Malaysia: Engaged Visual Ethnography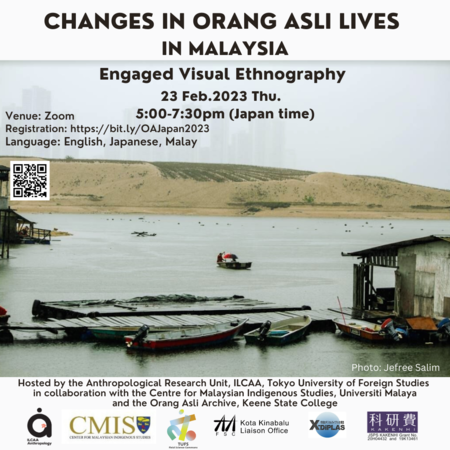 Date: 23. Feb. 2023 (Thu) 5:00-7:30pm (Japan time)
Venue: Zoom (Please register here)
Language: English, Japanese, Malay (online simultaneous/consecutive interpretation)
Images: Please download from here.pdf
Images(Malay)download from here.pdf
'Orang Asli' is the general term for the Indigenous Peoples of Peninsular Malaysia, which comprises 18 diverse groups: sea people, cultivators, hunter-gatherers, and so on.
Under the rapid development of Malaysia, the Orang Asli have experienced significant changes in their lives.
This symposium will bring together Orang Asli representatives, Malaysian researchers, and Japanese researchers to talk about these changes through the use of visual images.
---
Programme
5:00 Aya Kawai (ILCAA, TUFS)
   Opening remarks: Changes in Malaysia nad Orang Asli
5:05 Shingo Odani (Chiba University)
   Changes in Orang Asli Settlements around Taman NegaraKazuhiro
5:15 Suda (Hokkai-Gakuen University)
   Economic Activitis in Sungai Sayap, Terengganu
5:30 Yukio Kuchikura (Emeritus Professor of Gifu University)
   Economic Activitis of the Resettled Semaq Beri Community in Terengganu (focused on 1978-1979)
5:45 Juli Edo (CMIS, Universiti Malaya)
   Changes in the Land Rights of Semai: A Glimpse of Ethnohistory
6:00 Lipah Anjang (Semai person)
   Role of Women: Past and Present
6:15 Q and A, Break time
6:25 Jefree Salim (Selatar Photographer)
   Selater: The Sea People of Johor
6:40 Toshihiro Nobuta (National Museum of Ethnology)
   A Turning Pointo for Temuan People in Negeri Sembilan
6:50 Shereen Ajani (Universiti Malaya)
   Temuan Bukit Lanjan: 22 Years after Development
7:00 Rusaslina Idrus (CMIS, Universiti Malaya)
   Visual Ethnography for Land Rights
7:10 Q and A, disucussion
7:20 Rodney Obien (Keen State College)
   Closing remarks: The Orang Asli Archive as Memory House
---
Host, Cooperation: ●The Anthropological Research Unit, ILCAA 'Anthropological Inquiry of Sociality: Dynamics of Tolerance/Intolerance in Transcultural Contexts' ●The Center for Malaysian Indigenous Studies, Universiti Malaya(CMIS) ●TUFiSCo (ILCAA) ● Kota Kinabalu Liaison Office (ILCAA) ●"Building Digital Library for Humanities" (X-DiPLAS) (National Institutes for Humanities Co-creation Research Initiatives (Knowledge Co-creation Projecs)) ●SPS KAKENHI Grant Number 20H04432 and 19K13461 ●The Orang Asli Archive, Keen State College